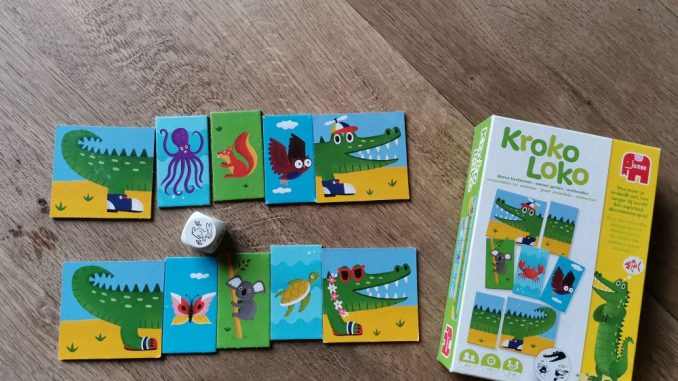 As said before, finding board games that young children like to play is not easy. It needs to grab their attention and keep it for at least 20 minutes. The game Kroko Loko is one of the few games that our 5-year old boys really enjoy.
You can play it with 2- 4 players and everyone gets the head and tail of a crocodile. The idea is that the crocodile is very hungry and gets a chance to eat an animal every turn. Whoever has the longest crocodile in the end wins the game.
The dice has pictures on it that are easy to read. There are three categories of animals the croc can eat: land-, water- and air- animals. So while playing they learn about different animals. The cards with animals are turned upside down so it's a matter of luck or memory to get the right one.
Playing this game with 4/ 5 – year olds is great. It really teaches them how to play a game together.
Of course there will be struggles. They will not always like it when you are allowed to steal an animal from their crocodile. Or when they have to skip a turn. But the worst is when they have a favourite animal … just a caution 😉 … they may throw a tantrum when they don't get the rabbit/ koala or cat.
But that creates the perfect opportunity to teach our children about not always getting what we want.
Other benefits of this game:
It's a small box, so easy to bring anywhere
Its not expensive at all.
A great gift idea for friends/ cousins etc.
It does not matter which language you speak at home, it works with pictures only so you can play it in your prefered language.