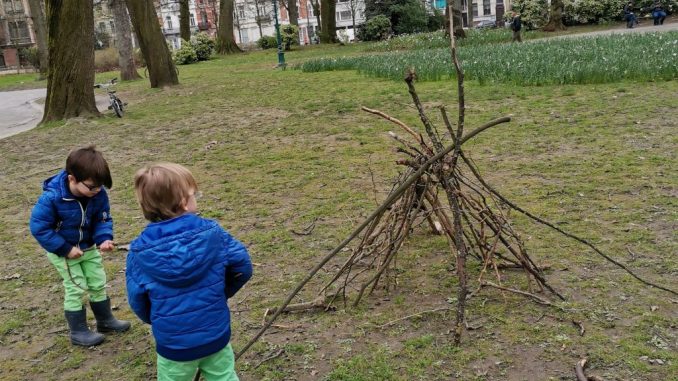 In Belgium we are currently in a lock-down but luckily we are allowed to go outside in our neighbourhood for some exercise, like jogging, walking or cycling. So we take the boys (and ourselves) out at least once a day.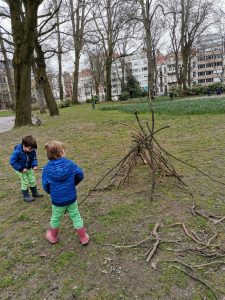 We are lucky and live nearby a park. There is enough space for the kids to run around and cycle a bit. But after a few days they find cycling and walking already boring. And the playgrounds have all been closed. So I've been thinking about ways to keep them entertained outside, so we don't just walk around but they also use some energy. So I have made a list of ideas of things to do outdoors.
–> Update on Sunday 22nd of March. I just read that the Brussels police is giving fines to families playing ball together outdoors. I did not know it was this strict, I really understood that you are allowed to do activities as a family together outside as long as you don't sit down and keep your distance from others. So I have adjusted this post as I am quite confused about what is allowed and what not. I will still post my list of ideas underneath but please be aware that you first need to check what rules your country currently has for doing activities outdoors.
Build a house made of sticks (our boys were very proud of the one we build). (We did this in our nearby park, police came by several times and never said anything.)
Bring some chalk and let them paint happy messages for other visitors like smiley faces, rainbows, sunshine and flowers. They can also do this in front of your building and the neighbours' houses (but remind them to keep distance when people pass by). (This one really confuses me, can Brussels kids do this or not.)
When it rains or has been raining: jump around in puddles, make bridges across puddles with big sticks, making 'soup' by throwing in twigs and leafs in puddles or bucket etc.
Paint with water on the tiles or walls
Let them wash their own bikes/ scooters/other outdoor toys with a bucket of soap and water
Let them wash your car/ the downstairs windows etc.
Let them help with gardening. For instance taking out weeds. Or keep some seeds from your fresh tomatoes/ paprika's and get them to fill a pot with soil, plant the seeds and water them.
Bring a Frisbee and teach them how it works
Bring a ball and teach them to throw and catch (this can be done indoors as well with a teddy bear)
The last idea I have (so far) is to let the boys make cards and drawings for all our (elderly) neighbours and let them play mailman and deliver them. I have not done this yet as the corona-virus apparently stays on surfaces quite long. I may still do this but in this case I'd let the finished cards wait 2 days and then have them deliver it with gloves on. If anyone has a better idea for this, please leave a comment.